Dear friends,
I hope you and your loved ones are well and healthy. Today I felt the need to share my concerns with you, I confess that I have been on the verge of not receiving more children in Nuestros Pequeños Hermanos. Sometimes I feel that the water reaches our necks with so many expenses and that the economic situation is more difficult every day for everyone. Last night, during a few sleepless hours I asked myself, what would our dear Father Wasson have done? And with that in mind, I fell asleep…
When I woke up, it was clear to me that he would have welcomed all the vulnerable children who come to us. What's more, I remembered an anecdote; When a Cardinal from Chicago came to visit NPH in the 1960s, he praised the work and said to Fr. Wasson: "You are doing something wonderful, but I advise you not to receive more than 150 children", Father nodded and didn't tell him there were already over 350!
We recently received 33 children from Chiapas, Ecatepec, and Guerrero from the most terrible conditions of vulnerability, suffering, and abandonment. We are happy that at last, they will have a new chance at life, a future of hope, and that little by little they will recover their self-esteem and their rights as human beings and as children loved by God.
Today I need you more than ever, I ask for your help in whatever way you can support us. We know that we are working together for the children and that only with your generosity can we move forward to change their lives and make a real difference for them, their families and communities, and for Mexico.
Thank you, thank you so much in advance for what you can do for our children!
Sincerely,
Rafael Bermúdez Gutiérrez
National Director
Nuestros Pequeños Hermanos Mexico
67 Years of Caring for Children
In the fertile valley that was once the personal property of Hernán Cortés resides an old, converted sugar plantation, Casa San Salvador. This site of 130 acres has served as the main facility for the NPH Mexico family since 1970. Always bustling with activity, over 430 children live, play and study in this village of Miacatlán, which is located 77 miles south of Mexico City. Casa San Salvador facilities are quite extensive and offer a village feel with cobblestone streets, boungainvillea filled archways, and a lush landscape. The Casa San Salvador campus includes a pre-school through secondary school, a chapel, dining hall, kitchen, clinic, administration buildings, and a farm with chickens, sheep, pigs as well as fruit and vegetable gardens.
An additional 140 students attend the NPH vocational high school in Cuernavaca.
Many will then go on to university in Mexico City or Monterrey. The university program boasts our largest group of higher education students in the entire NPH family-over 75 young adults are enrolled, living in student houses with their NPH peers in the university capital of Monterrey, Mexico.
Even farther north, in Matamoros, Mexico, reside more of our extended family. Cuidad de Los Niños, or City of the Children. This home received the first children in 2009 and is now home to 40 children, the majority under age 16. When youths are ready for high school, they move to our home in Cuernavaca.
Extracurricular activities are a valuable part of the pequeños' days. Aside from an active sports program, NPH Mexico has a proud tradition of its young people's talent as musicians, folk dancers and Tae Kwon Do athletes. At least once a year, the dance and music troupe travel abroad to the USA, performing their own Ballet Folklórico to raise funds to help support their family.
In 2011, the home began investigating and accepting children from the war-torn region of Juárez, where many children are abandoned while their parents seek a better life across the border. As of today, 28 children have entered the home and an additional 15 plan to arrive within the year 2014.
NPH Mexico is led by Rafael Bermudez, along with over 240 dedicated staff.
"

For me, NPH is a place where once you are here you can perceive a sense of internal security in a warm environment because you know that all your little brothers are together and not separated from different relatives, where you can realize your dreams with the support of many people. wonderful

"
– Rafael "Rafa" Bermudez, National Director, Hermano mayor
At NPH-Mexico we strive to create a loving and safe environment for children and adolescents from situations of extreme vulnerability by providing them with a home where they are provided with food, clothing, sports, cultural activities and  medical care. 
At NPH-Mexico we focus on providing educational programs, vocational training and other support services that equip our youth to earn a living wage and secure a first job with dignity. The key result is the achievement of financial independence, autonomy and a caring and responsible character. 

An NPH education embodies a holistic approach that empowers students to reach their God-given potential in mind, spirit and body. Guided by Christian values, NPH homes and schools offer a variety of quality educational and formational programs that serve individual needs of each and every student. At NPH-Mexico we commit to educating underprivileged students, we embrace the ideal of continual learning and growth, and strive to prepare our students to be compassionate, productive, and responsible community members. 
In 1954 Fr. William Wasson met the first pequeño and NPH was born
Breaking generational poverty begins with helping a child.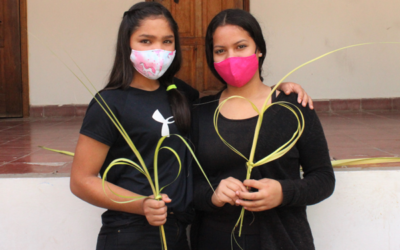 Lent reminds us of the 40 days Jesus passed in the desert, suffering great deprivations, which the...
Make a difference and help NPH Mexico today!